SUN PLEASE.

Get ready for an epic summer season at W Barcelona. Explore everything we have to offer during your next stay with us. Whether you are looking to hit the dance floor at one of our summer parties or want to fuel your workout during one of our exclusive FUEL sessions, we've got you covered. The ultimate Lust for Life experience delivered with our newly transformed rooms & suites, Whatever/Whenever Service and unique beachside location.
Soak it in and live it up. W Barcelona is the perfect Escape destination.
#HitEscape
WET® DECK SUMMER SERIES

You are invited to escape with electronic sessions of house beats by world-renowned DJs, flirty fusion of cocktails, vibrant atmosphere and beautiful views over Barcelona and the sea.
Every Sunday from 4th June to 20th August.
WET® DECK CHILLOUT SESSIONS.

Fire up your weekends with Friday & Saturday nights at W Barcelona, as the WET® Deck energy rises. DJs Big Mil, William Balart, Piem and Luís del Villar drop dance, deep house and hip hop beats. Mix and move on the poolside deck or hang out at your VIP table.

FRIDAY: HEAT. RnB House Beats, back to back.
SATURDAY: Remixed. Hits you love with a W twist.

Every Friday & Saturday from June to September. 10PM – 2AM.
Stay Tuned. Guestlist coming soon.
SALT BEACH CLUB SUMMER SOUNDS.

Lounge seaside at Salt Restaurant & Beach Club, where you can enjoy the creative combinations of cocktails, burgers & bites. As night falls, the Beach Club booms with the pulsating beats of our resident DJs.

Let us amplify your sun soaked afternoons with your sunset ritual. Fridays, Saturdays and Sundays during summer.

Discover more >
SUP PILATES & YOGA.

W Barcelona brings you pilates & yoga on stand up paddle boards, so put your bikini on and make the Mediterranean your sports ground. Tone up and make your body so fabulous you'll want to show it off.

Get summer ready and make the most of W Barcelona's FIT offerings.

Schedules and sign ups >
URBAN GORILLAS

In partnership with Urban Gorillas, the number 1 outdoor fitness and bootcamp program in Barcelona, W Barcelona offers a social outdoor training that is fun, energetic and will help you push your boundaries.
We are taking fitness serious. Join our workouts every Thursday at 19:45h at FIT and get ready to look good, feel good, go longer and stay later.
Sessions complimentary for hotel guests & Urban Gorilla Members only.
Reebok x W Barcelona

It's time to take your workout seriously.

W Barcelona brings you an extensive selection of complimentary fitness classes, led by experienced Reebok instructors, who know how to prep your body for when you hit the beach this summer.
Take part in one (or all) of these inspiring workouts that ignite adrenaline and FUEL your energy:
Body Combat, Body Balance, Sh'bam, Combat, Running, Spartan, Yoga & Training
View the schedules and sign up >
#bemorehuman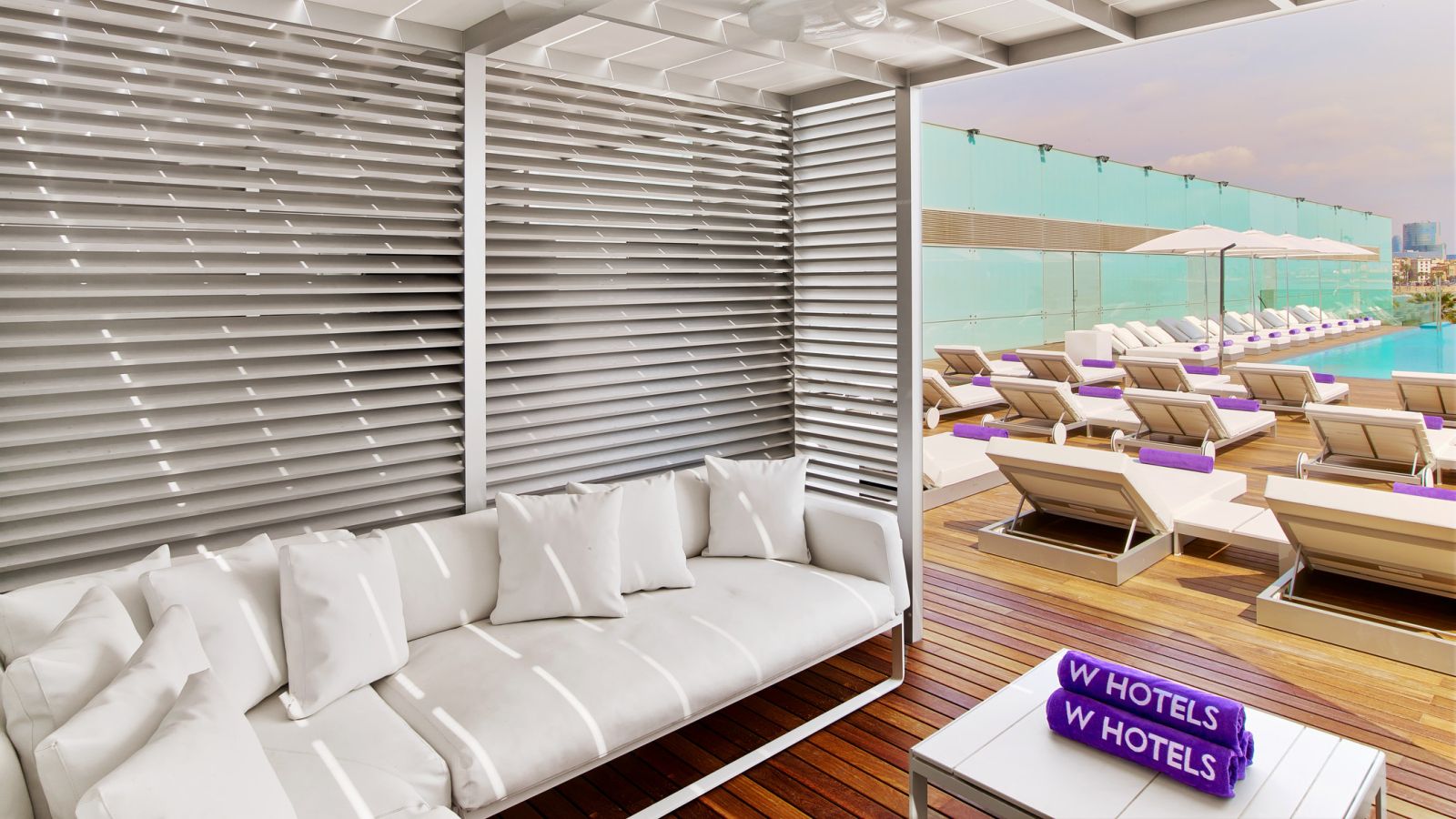 WOW CABANAS

Take it outside and get together with friends. Sneak away to a cozy cabana where views over the Mediterranean Sea make a refreshing escape.
Hang out in the most exclusive & glamourous terrace of Barcelona. Views over the Barceloneta beach included.